Acid Tongue Radio
LadyJewel
This station is currently not available.
About the Station
San Mateo, CA
13 years on Live365
Sociably Unexceptible Radio
About LadyJewel
Yeah Yeah Yeah It's me, yes, i'm sick and wrong and not going home to your mother's house. Acid Tongue 4 your listening pleasures. Enjoy!

---
Hot Dark Ladies Here
---
A Little .exe Desktop Program
Last 10 Tracks Played
After Download Just Type in
Broadcaster's Name
Click Below To Download Now: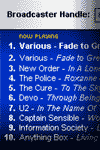 Keep Acid Tongue Radio growing,
click button below to donate now..
Contact LadyJewel on: